Where beauty on the inside and
beauty on the outside meet.
Welcome to Duality Salon
Check out Northwest Austin's best beauty destination offering full-service hair, special event makeup services, and licensed massage therapy services.
We are the leading certified curly hair specialists in the central Texas area. Duality loves to deliver amazing results and friendly conversation. The hair and makeup teams strive to make each experience unique to your beauty and lifestyle needs. Book online or call our salon for an appointment.
Duality Salon was founded by Lyndsey Kincer, an Austin, Texas native, who brings over 17 years of experience to the beauty industry.
Duality Salon was founded by Lyndsey Kincer, an Austin, Texas native, who brings over 17 years of experience to the beauty industry.
We're excited to announce that we are open and taking appointments! You can even book Online! Here's a summary of what's new at Duality Salon.
Why Choose Duality Salon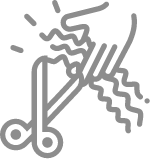 Curly Hair
Specialized
Hair Color
Experts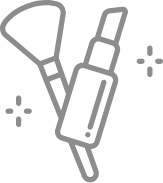 Makeup Artistry and Bridal Services
Sustainable Professional Hair and Makeup Products
Testimonials
Duality offers a five-star customer experience while delivering the latest in hair services. Our customers say it best:
"Had a wonderful experience here, everyone was very professional and I could tell they care deeply about healthy curls! Veronica gave me the perfect cut, and paid attention to every single detail! I absolutely love this salon and suggest it to anyone who is struggling to find a good Deva Cut."
Johanna J. via Google Reviews
"Veronica transformed my hair from massive lion's mane of frizz to curly beauty!!! She took the time to look at my hair and listen to what I had to say and made adjustments accordingly. I never felt like I was being shoved into a mold for what a "curly style" should be. Veronica and Lindsay were very kind and helped educate me through the entire experience. I'll definitely be back for a refresh soon and be recommending Duality to anyone wanting a curly cut."
Cori M. via Google Reviews
"I am so happy I was referred to Lyndsey and Duality Salon! She did a fantastic job on my hair, but just as important for me, she was lovely and fun to talk with. I needed a post-COVID cleanup and my hair is so happy now. I have a cute bob and a new salon home! :)"
Cathy E. via Google Reviews
Frequently Asked Questions
How do I prepare for my curly haircut appointment?
Come to your appointment au naturale. Dry, detangled, styled curls (minimal product) is how we want to see your hair when you arrive. Check out our Curly Services page for more information.
How do I prepare for my hair color appointment?
Come to your appointment with your hair in its natural state. Come with clean hair – no hair product, including dry shampoos and root concealers; styled in its most natural state. This will allow our stylists to examine the highlights and shadows. Dramatic hair color changes may take several appointments. If you'd like a consultation before booking your appointment, email us a photo of your current hair and an inspiration photo: dualitysaloninfo@gmail.com.
How can I tip my stylist?
Your service providers' preferred method of receiving tips is cold, hard cash! Each provider also happily accepts Venmo, CashApp, and PayPal. Have no fear, if you forget your cash, you will be provided a tipping option at checkout with a credit or debit card as well.
Looking to book appointments after hours?
We know you're busy. While we're open Tuesday – Saturday for your convenience, you can conveniently book your own appointment through our online portal for anything in our regular operating hours. If you need something more, call us, email us, or chat with us on our website or social media. On occasion, our stylists are able to meet other scheduling needs on a case-by-case basis.
Do you do men's and kid's haircuts?
Yes – we are a salon for the whole family! Men, women, and kids can book hair services at Duality Salon.